Roberta Matuson
The Talent Maximizer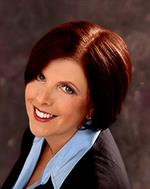 For more than 25 years, Roberta Chinsky Matuson, president of Matuson Consulting, has helped leaders in Fortune 500 companies, including Best Buy, New Balance, The Boston Beer Company and small to medium-size businesses, achieve dramatic growth and market leadership through the maximization of talent. She is known world-wide as "The Talent Maximizer."
Roberta, a leading authority on leadership and the skills and strategies required to earn employee commitment and client loyalty, is the author of the international best-seller, Suddenly In Charge: Managing Up, Managing Down, Succeeding All Around (Nicholas Brealey, 2011), a Washington Post Top 5 Business Book For Leaders. Her new book, Talent Magnetism (Nicholas Brealey) will be released in September of 2013.
Testimonials
"When it comes to management of people, Roberta sees through all the noise to the heart of the matter."
– Mark Spitzer, President,
Photonic Glass Corporation
"The advice I have received from Roberta over the years regarding leadership matters has been invaluable."
– Russell Whitaker, Senior Vice-President,
Broadcast Pix
"Suddenly in charge became a key part of our leadership development program at Tufts Medical Center in Boston, Massachusetts. First time managers and supervisors loved the real world scenarios and opportunities for open and honest discussions. Our more seasoned leaders found the program valuable in a number of ways...first, many of them never had any foundational training in how to manage and lead people; second, it create a common language for new and seasoned managers to utilize when they were in dialog with each other; finally, everyone who attended came away with a solid understanding of what is expected in an organizational leadership role".
- Jay Hargis, Former Director, Organizational Development,
Tufts Medical Center